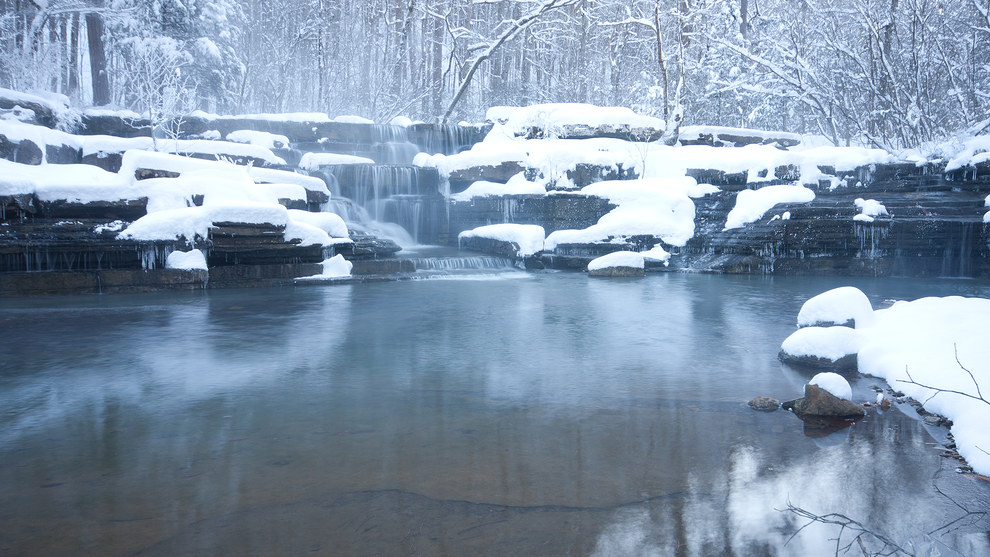 Posted on Monday, December 9, 2013 by Zack Andrews
I used to work in Conway and my shift would end around midnight. That evening we had a great snow storm move through the area. So, when my shift ended I went home and immediately packed my gear for one of my favorite stomping grounds for waterfall photography, the Blue Hole. I left around 12:30am and drove the 2 hours to reach the pull off for this beautiful location. The drive there was a winter wonderland with perfectly fresh snow on the roads.
I tried my best to sleep with my wool blanket wrapped around me and enjoyed the warmth from the Jeep's heater every so often. That morning I awoke around 5:30am to moonlight still shining on the snow covered landscape. I popped the door open, grabbed my gear, and began my descent into the Blue Hole.
Upon arrival I was greeted with perfect water levels along with a fresh blanket of beautiful powdery snow. I couldn't ask for better conditions for one of my favorite areas. It was absolutely beautiful and the few photos I returned with will forever remind me of that day.