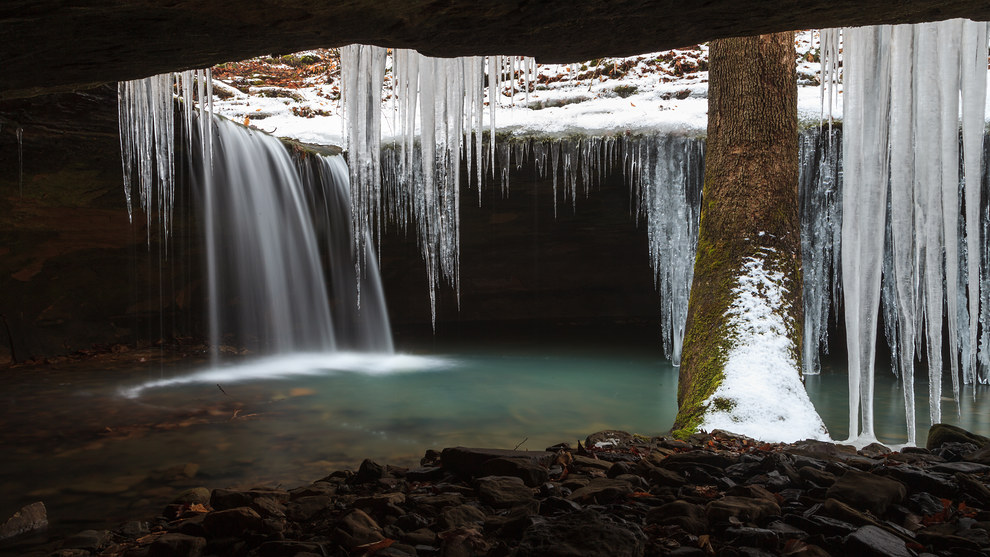 Posted on Sunday, March 1, 2015 by Zack Andrews
Brian Cormack and I left around 10am this morning headed for a relatively new documented waterfall just north of Clarksville. This waterfall is known as Short Grotto Falls, primarily because it falls into a very cool little shelter area that is about as tall as a person sitting down in Indian style. It's pretty short!
Not only is it short, it is absolutely gorgeous. We were able to photograph it with some very nice ice that had formed over the previous couple of days. After crawling under the grotto and in between the giant icicles it was almost as if being transported to another world. The light shining through the icicles was very blue and gave the scene a very cool feeling (besides the fact that it was 32 degrees outside!)
This small waterfall is found lower in the hollow and there are 4 others to see just above it. During the spring and after a really decent rain one could make a day out of exploring this small area, and I would highly recommend it! It is amazing.
If you would like directions to this waterfall visit: Short Grotto Falls – Arkansas – Waterfalls IO